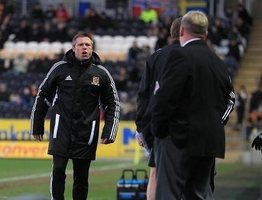 Barmby was incensed over a second half incident which saw Evans' assistant Paul Raynor sent to the stands, with the Tigers boss accusing Crawley backroom staff of "trying to get my players sent off".
Evans retorted: "I think he's grabbing at straws and he shouldn't say these things. Nick Barmby is an altar boy, is he? I don't think so. He's lost the game because we've come here and outplayed his team."
Crawley dominated the KC Stadium clash from start to finish with new Arsenal loanee Sanchez Watt coming close to increasing the underdogs' margin of victory, which according to Evans should have been greater.
Evans added: "I think we were unlucky not to win by four or five. We came here with three strikers and aiming to be very attack-minded. I think if we had got a second, it would have been embarrassing for Hull."
Hot-shot Tubbs struck the winner when he raced onto a through-ball from Sergio Torres on the left flank and cut inside, keeping his cool admirably to squeeze the winner under Hull keeper Vito Mannone.
Barmby, who had made seven changes to his side that won at Reading last week, paid tribute to the Crawley players, admitting: "I'm disappointed but we were beaten by the better team.
"You've got to get your head down in these games and realise you're in for a battle and we didn't do that. We had four shots on target which is not like us at all but Crawley were a strong side.
"We're out of all the cup competitions now so there's no distractions for us now and we cannot have any excuses. Between now and the end of the season we'll be giving it our best shot."
Source: PA
Source: PA